What difference does it make whether you're looking at a photograph or looking at a still life in front of you? You still have to look. – Chuck Close
---
---
Art Foundations

: SOCIAL COMMENTARY Sculpture!
G: 7.1P: Hypothesize ways in which art influences perception and understanding of human experiences.
A: What are three textures / techniques you are going to have to interpret into your sculpture from your research?
G: What techniques are REALLY important to be using to make sure any ADDITIVE clay really HOLD TIGHT to the clay you are adding it to?
---
Introduction to drawing and printmaking:

Your time to DRAW an OBJECT!
SLIDE 81 has the List of Requirements.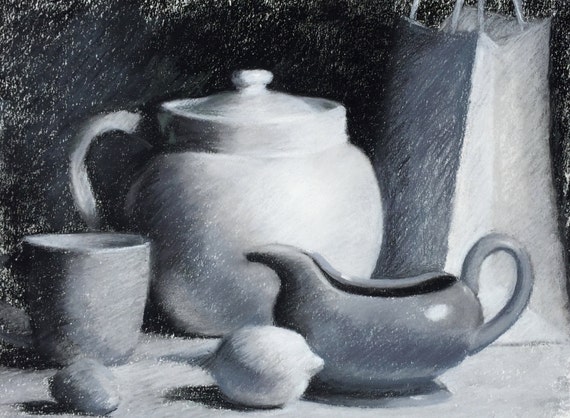 G: 2.1Ac: Through experimentation, practice, and persistence, demonstrate acquisition of skills and knowledge in a chosen art form.
Second day with your objects is today. BEFORE YOU START… Step back from the drawing and look carefully at what you have begun. What do you need to do to continue?
Taking things home? Coming in for ET? Be prepared to have the work for CRIT. next time! I will TEACH YOU how to do a formal critique.
---
Intro to painting

: CRITIQUE!
4.2Ac: Analyze, select, and critique personal artwork for a collection or portfolio presentation.
A: Painting – Critique DAY
G: That's it folks – the exam gave you enough time to really reflect and talk about the work you have completed here. Good job? I hope so!
---
advanced painting: Let's paint!
G: 2.2Ad: Demonstrate understanding of the importance of balancing freedom and responsibility in the use of images, materials, tools, and equipment in the creation and circulation of creative work.
A: It is your day to PAINT. Please open your handbooks to page 10 and write out what you are planning on STARTING with today and 3 things that you are hoping to accomplish with the artwork.
G: What have you gotten accomplished today to have demonstrated your STRONG PROGRESS FORWARD with your VERY FIRST oil painting.
---
---
Intro to Digital Art and Photography: Logo Work – Let's Grade the Ideas.
Paul Rand's Works – 14 Designers Portfolio's
G: 7.1Ac: Recognize and describe personal aesthetic and empathetic responses to the natural world and constructed environments.
A:What is individual about your logo that others will be able to look at and EASILY identify that as a logo for someone extraordinary – you?
G: How do you feel about the final design of your image? What is successful? What would you do differently? Will it fit on the side of a pen? Will it fit on the side of a blimp? Is it SCALABLE?