"Imagination is more important than knowledge." – Albert Einstein
AP Studio Art: Duchamp and YOUR Nude Descending a Staircase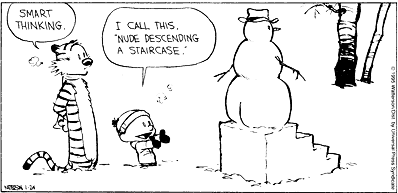 Goals:
8.1Ad: Analyze differing interpretations of an artwork or collection of works in order to select and defend a plausible critical analysis.
What do YOU feel an audience might think as they examine your artwork? Write out 3 ideas that might pop into their heads
What are 3 things YOU FEEL are working about your drawing? 
Advanced Drawing: Bauhaus and FRAMING up the work
ONLINE CRIT HERE. Due Monday of RETURN from SPRING BREAK!
Goals:
7.2Ad: Determine the commonalities within a group of artists or visual images attributed to a particular type of art, timeframe, or culture.
What are the COMMONALITIES of ALL your work? Write out three COMMON IDEAS you see throughout.
What are three things YOU CONTRIBUTED to the conversation today – If your's was spoken about – what are 3 things you heard about yours that you didn't see earlier?
Goals:
1.2Ac: Choose from a range of materials and methods of traditional and contemporary artistic practices to plan works of art and design.
Take a look at your previous week's works – where did you struggle the most with the idea of the portrait? Where did you succeed the most? How do you use the ideas of chiaroscuro and color to better define the ideas of form (in the face especially)?
What was the most challenging way to draw? Why was this most difficult way to go? What is most important about drawing when it comes to observation? Previous works from past classes. 
Studio Art 360: Color Schemes
Goals:
 3.1P: Apply relevant criteria from traditional and contemporary cultural contexts to examine, reflect on, and plan revisions for works of art and design in progress.

What images have you brought in today or are you thinking about using for this project? Why are these products important to you? How do you feel they fit into the experiences of the rest of society? Popular Culture?
 What color scheme does this advertisement use and WHY?