---
#17 Drawing is About Mark Making "Every mark has a distinct character and quality.Every mark is a signature. Variations in pressure and weight is the visual equivalent of intonation. Marks, or lines, of consistent weight or thickness surrounding a figure or object will flatten the image. Tapering or breaking a line in a curve can connote a highlight or make the curve flow. Also, a tentative line will read as such. Give every mark or line authority and make sure it serves a purpose. Try to use only the marks you need." 101 Things Learned in Art School, Kit White, 2011, MIT Press
---
Art Foundations

: More Value…
G: 2.1P: Engage in making a work of art or design without having a preconceived plan.
A: How DOES VALUE help you draw something in 3 dimensions? What are different techniques you know? What did you do successfully yesterday that you can continue with today? Today we work on scumbling and also line weight and character.
G: What is one thing you are putting into your drawing of the 3D Forms that might be related to the ELEMENTS and PRINCIPLES as the building blocks of Art – things you really need to be aware of AS you are making art.
Collage Link Just For You!
---
Intro to painting

: Develop More of the Painting Today – Line? Emphasis? Colors?
D.D.Cr.12.h: Make Develop unique, well crafted works of art utilizing deliberate choice of media, tools, and techniques.
A:How do you feel about the composition as you have developed the UNDER PAINTING? Have you a sense of the WHOLE PAINTING? Today we work on adding some VALUES, TECHNIQUES, and even a bit of LINE work to ACCENT the edges – but not OUTLINE.
G: What accomplishments did you have in the work today? How are you going to be using ET to come in and resolve the work? REMEMBER THAT MID CRIT is NEXT TUESDAY!
---
Advanced Painting: Critique Next week. Hanging them in the hallways too.
G: 2.2Ad: Demonstrate understanding of the importance of balancing freedom and responsibility in the use of images, materials, tools, and equipment in the creation and circulation of creative work.
A: 2 more days to work – we CRIT at the end of the week. LEt's begin ALSO to develop the next set of canvases. I will be sharing the next assignment with you next time (or the next – depending on when the materials come in – wait for it – it is going to be epic). What challenges / successes are you having with the abstraction? What are the new skills, abilities, new, enjoyable, frustrating things that you are experiencing with the work
G: Were you able to create NEW MARKS? NEW Ideas in the work? If yes – GREAT – How so? If NO – hmmm… – Why Not? What can you do?
---
Introduction to drawing and printmaking:

Digital images and Gridding – once again…
G: D.D.Cr.12.h: Make Develop unique, well crafted works of art utilizing deliberate choice of media, tools, and techniques.
A: Working with our photographs from last time, what are the strongest areas of deep shadows that you can find? Where are the lightest areas of highlights that you can find? Talk to your neighbor and look at one another's images and chat about how you will use it successfully and how you might need to modify the image to make for a stronger drawing.
G: What successes do you find in today's work? What are you going to be doing next time to make sure you are ready to roll?
---
INTRO TO DIGITAL ART AND PHOTOGRAPHY: Crit. and Research! What is Digital Fine Art?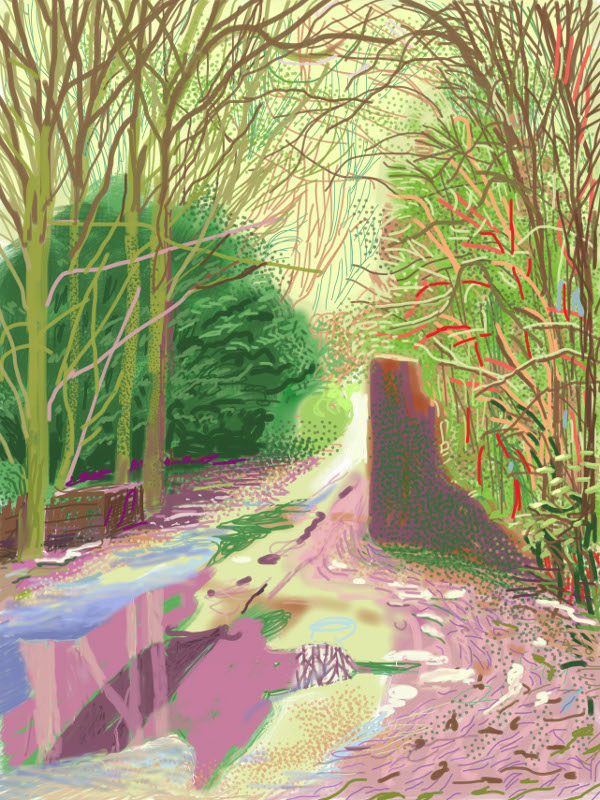 G: 4.2Ad: Critique, justify, and present choices in the process of analyzing, selecting, curating, and presenting artwork for a specific exhibit or event..
A: Today we are going to critique the Logo Designs in for the FACS Department. What are the strongest parts of the design – what are you most proud of? Is there anything that you would like to have done differently? Stand up and talk about your image on the screen and be proud of the work you've created. The assignment that was due today is going to be pushed until TUESDAY. You have RESEARCH and PLANNING to get going on. Homework to do and images to gather.
Digital Fine Art encompasses many different styles of art, from Realism to Expressionism to Impressionism. It can mimic any medium, including oil paint, watercolors and acrylics. What distinguishes Digital Fine Art from its predecessors is that it is created with digital technology. Lucas Museum of Fina Art