#69: Color is not Neutral: It has an emotional component. Certain colors have specific associations and induce certain responses. Learn what they are. When you use color, try to determine and understand the accompanying emotional response and how to use it effectively. Color has a visceral impact. Kit White 101 Things I Learned in Art School
---
CHAPERONES NEEDED FOR FIELD TRIP… Any PARENTS who'd like to go to the Milwaukee Art Museum?
---
Art Foundations: Digital Images in Photoshop!
G: 3.1P: Apply relevant criteria from traditional and contemporary cultural contexts to examine, reflect on, and plan revisions for works of art and design in progress.
A: What have you accomplished SO far in the process of the DIGITAL Art that you are making? Give 3 examples of EXCITING NEW discoveries that you have come up with or run across. What is ONE thing that has challenged you with the digital world (this might be MORE important than the successes to look at).
G: Next block is the LAST day to work on RESOLVING your TWO images. Make sure that you are utilizing the time well. What is the one thing that you are going to be FOCUSED ON? Write it out and put it in your handbook so you remember.
---
Intro to Painting: Portraits
G: 1.2Ac: Choose from a range of materials and methods of traditional and contemporary artistic practices to plan works of art and design.
A: Looking at the canvases that we have ready for us… what scale, size, position, plans are you going to work at in your portrait. If you aren't ready – I will be giving you a portrait of yourself to use.
G: We looked at the process of the canvas building – think about the scale that you are going to be using. What scale, position, proportion, inspiration are you going to be thinking about in regards to the portrait? The PRELIMINARY DRAWINGS and PLANNING must get done so that you are ready to build next time and painting over BREAK. Consider the idea of coming
---
Advanced Painting: Critique Today!
3.1Ac: Engage in constructive critique with peers, then reflect on, re-engage, revise, and refine works of art and design in response to personal artistic vision.
A: Thinking about the work that you have completed over the past number of weeks or so, what are the struggles you had with the process? What were the successes that you had with the work? What are you most pleased / surprised / struggled) with? Take a few minutes – 5 – to talk with and make up a list with a friend / buddy / stranger to talk about the work and come up with 3 strong talking points – Process / Tools, Successes, Struggles. Then please come up with a question that you would like to ask another artist about their work.
Next time we will be working FIGURATIVE IDEAS and some RESEARCH on your own… We will be meeting in the DIGITAL LAB so that you have time to research and PLAN your work. CANVASES will NEED to be done on your own time. ALSO – REMEMBER THAT the IMAGERY is YOUR OWN IMAGERY! It HAS to be YOURS.
---
Intro to Digital Art: Portraits in PhotoShop
G: 1.1Ac: Individually or collaboratively formulate new creative problems based on student's existing artwork.
A: What are the qualities of the portraits that you think about when you see them? What types of portraits are you thinking about for yourself when you want a portrait made? Have you even begun to think about what you are going to do with the background of the image to make a strong photograph (and then a strong drawing) of the photograph?
G: PORTRAITS: With a group of three, come up with 3 techniques, tools, approaches to a portrait that you as the model would like to work with for the image? As a group of three – you will 1) hold lighting, 2) Be the Photographer, and 3) be the model for the photograph. We will talk about the cameras for a brief bit in the beginning, then we will be heading down to the painting studio and then out into the building with cameras and lights for 30 minutes (that is 10 minutes per person… so be thinking about the process and the poses that you might want.) Take 5 minutes NOW to look over PORTRAITS in Google to begin to THINK of ideas… you will be using these ideas as IDEAS. Have your sketchbook ready to make notes and quick sketches of the ideas. We will be using an 10" x 8" format at 300ppi.
ALSO – When this work of art is DONE (3 class periods) we will begin to illustrate NOT from a photograph, but from our own drawings, gathering of images, our own ideas. Illustration of another work of art – LITERATURE!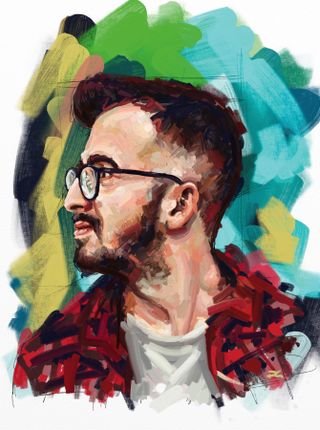 ---
Advanced Digital Art: We Critique and Turn this into a Google Slideshow!
G: 4.2Ad: Critique, justify, and present choices in the process of analyzing, selecting, curating, and presenting artwork for a specific exhibit or event.
A: Today we TALK about the images we have. TURN THEM INTO CLASSROOM as a Photoshop Image and then INSERT them into the GOOGLE SLIDESHOW as a JPEG. Name at the top of the SLIDE and then we CRITIQUE! 10 minutes to do those 2 things – GO!
G: What do you take away from the critique today? What SKILLS have you learned about / techniques / approaches from looking at the work of your studiomates? Next time – we learn more about ourselves and create a page layout and magazine cover about US!